Government Agencies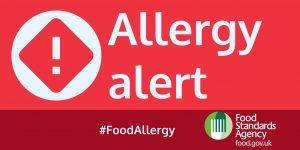 The Food Standards Agency | @foodgov | @FSAWales
Working across England, Wales and Northern Ireland to protect public health and consumers' wider interests in food. They provide free online training and an allergy alert service that anyone may subscribe to.
Food Standards Agency Staff
Chun-Han Chan | @ChunHanChan
'Food allergy policy lead @foodgov making a positive difference for consumers.'
Heather Hancock | @HeatherJHancock
'Chairman of the Food Standards Agency. Talking about food, farming, rural, The North – mostly.'
Jason Feeney CBE | @JasonFeeney5
'Food Standards Agency CEO, fell runner, Bingley Harrier and aspiring cyclist. Keen on cake. Own views.'
Justin Everard | @Justin_Everard
'Head of External Communications at the Food Standards Agency.'
Maria Jennings | @MariaJenningsNI
'Director of Food Standards Agency in NI'
Ross Yarham | @RossYarhamDH95
'Food Allergy & Intolerance Research Programme manager for the FSA. Views are my own.'
Food Standards Scotland | @FSScot
Ensuring that information and advice on food safety and standards, nutrition and labelling is independent, consistent, evidence-based and consumer-focused.
Food Standards Scotland Staff
Geoff Ogle | @GeoffOgleFSS
'Food Standards Scotland, CEO. Food interests and then running, cycling and back to judo to stay fit. Own views.'
Charities & Independent Organisations
Allergy UK | @allergyUK1
Providing support, advice and information for those living with allergic disease.
Anaphylaxis Campaign | @anaphylaxiscoms
Supporting people at risk of severe allergies. They also provide free training via their AllergyWise website.
Action Against Allergy | @AAAllergy
Providing information, advice and support to people made chronically ill through allergy and those who care for them.
Foods Matter | @foodsmatter
The resource for allergy, intolerance, coeliac, food sensitivity. Founders of the FreeFrom Food Awards @FFFoodAwards and FreeFrom Eating Out Awards. @FFEatingOutAwds.
Research
British Society for Allergy and Clinical Immunology (BSACI)
Aims to improve the management of allergies and related diseases of the immune system in the United Kingdom, through education, training and research.