Government Agencies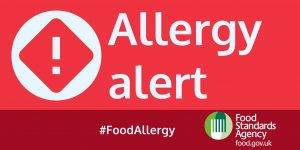 The Food Standards Agency | @foodgov | @FSAWales | @FSAinNI
Working across England, Wales and Northern Ireland to protect public health and consumers' wider interests in food. They provide free online training and an allergy alert service that anyone may subscribe to.
Food Standards Agency Staff
Heather Hancock | @HeatherJHancock
'I chair the Food Standards Agency. Talking, every so often, about food, farming, rural, The North – mostly.'
Emily Miles | @EmilyHMiles
'Chief Executive of the Food Standards Agency. Interested in: Inclusion. Collaboration. Compassion. RT does not nec mean endorsement.'
Maria Jennings | @MariaJenningsNI
'Director of Food Standards Agency in NI'
Chun-Han Chan | @ChunHanChan
'Head of Chief Scientific Adviser's Team and Strategic Science @foodgov. Responsible for strategic science, assurance and governance.'
Rebecca Sudworth | @RebeccaSudworth
'Director of Policy at the Food Standards Agency.'
Justin Everard | @Justin_Everard
'Head of External Communications at the Food Standards Agency.'
Ross Yarham | @RossYarhamDH95
'Food Allergy & Intolerance Research Programme manager for the FSA. Views are my own.'
Guy Poppy | @GuyPoppy1
'Husband, Dad, Cyclist, Professor at Uni of Southampton and generally good Guy. Personal views. Chief Scientific Adviser to the Food Standards Agency (UK Govt)'
Dr Colin Sullivan | @colinsullivan26
'Public servant trying to make a positive impact – COO for FSA, previously NI Civil Service, NHS management, optometry & fan of The Open since Carnoustie '75'
Rick Mumford | @RickMumford3
'Head of Science at UK Food Standards Agency. Biologist and biosecurity practitioner.'
Julie Pierce | @JuliePierce77
'Director Openness, Data & Digital and Wales, at Food Standards Agency. CIO100 My own personal thoughts and RTs are not endorsements.'
Food Standards Scotland Staff
Geoff Ogle | @GeoffOgleFSS
'Food Standards Scotland, CEO. Food interests and then running, cycling and back to judo to stay fit. Own views.'
Charities & Independent Organisations
Allergy UK | @allergyUK1
Providing support, advice and information for those living with allergic disease.
Anaphylaxis Campaign | @anaphylaxiscoms
Supporting people at risk of severe allergies. They also provide free training via their AllergyWise website.
Action Against Allergy | @AAAllergy
Providing information, advice and support to people made chronically ill through allergy and those who care for them.
Coeliac UK | @Coeliac_UK
The UK's national charity for people who need to live without gluten. We provide independent,trustworthy advice & support so people can live well, glutenfree.
Foods Matter | @foodsmatter
The resource for allergy, intolerance, coeliac, food sensitivity. Founders of the FreeFrom Food Awards @FFFoodAwards and FreeFrom Eating Out Awards. @FFEatingOutAwds.
Natasha Allergy Research Foundation | @NatashasLegacy
Campaigning for allergy research & safety in memory of our daughter Natasha..
Research
British Society for Allergy and Clinical Immunology (BSACI)
Aims to improve the management of allergies and related diseases of the immune system in the United Kingdom, through education, training and research.