News releases and coverage of Menu Guide
The Caterer features Menu Guide and highlights how it supports allergen management at Lussmanns in their 2023 Technology Prospectus; a comprehensive guide to all the latest technologies that food businesses need to thrive. Download the free guide [pdf]
Menu Guide wins the Innovation & Technical category at the Office for Product Safety and Standards (OPSS) Regulatory Excellence Awards 2021 (11 June 2021) ~ we are immensely proud to have won this prestigious national award.  Read the news release [pdf]
Menu Guide is shortlisted for the Regulatory Excellence Awards 2021 (25 May 2021) ~ we are delighted to have been selected as finalists in the 'Innovation and Technical' category of the Office for Product Safety and Standards (OPSS) Regulatory Excellence Awards 2021.  Read the news release [pdf]
What can restaurants do to help customers with allergies? (16 September 2019) BBC News ~ "For other restaurants, interactive allergen menu services like Menu Guide can help them cater to the estimated two million people in the UK with a diagnosed food allergy."
Creating the right customer reaction to allergen information (28 June 2019) Sustainable Restaurant Association ~ "Whatever your views on the 'experience economy', it's clear that attracting and retaining loyal diners is essential to staying competitive in the hospitality industry."
---
Our blog
Working towards carbon net zero ~ In this updated post, we report on the key organisations at the forefront of the movement towards carbon net zero and Menu Guide's developing role in supporting sustainable hospitality.
Food and You – FSA Consumer Survey ~ Research published in August 2022 by the Food Standards Agency (FSA) has provided updated statistics on food allergies, intolerances and other hypersensitivities.
Precautionary Allergen Labelling (PAL) ~ Key findings from the Food Standard's Agency's 'may contain' consultation, which Menu Guide responded to, along with a range of key stakeholders.
Mandatory calorie labelling on menus ~ From April 2022, large food businesses in England will be required to display the calorie information of non-prepacked food and soft drink items.
Ethics and allergens ~ Find out how some of the food businesses using Menu Guide for allergen management have ethical practices at the heart of their operations.
Menu Guide wins national award ~ Menu Guide won the 'Innovation and Technical' category at the UK Government's Office for Product Safety and Standards (OPSS) Regulatory Excellence Awards 2021 on 10 June 2021.
Preparing for Natasha's Law ~ Find out how Menu Guide can help you meet the requirements of The UK Food Information Amendment, which comes into effect from 1 October 2021.
Primary Authority ~ Menu Guide is in a Primary Authority Partnership with Milton Keynes Council. Find out what this means and how it might be relevant to your next EHO visit.
Allergen management for takeaway food ~ If you are offering takeaway or delivery, read our helpful guide to providing additional allergen information.
QR Code menu table talkers now available ~ Instantly download an attractive table talker/table tent complete with your QR code when you add your menu to Menu Guide
Top tips for allergen control ~ Guest blog by Melissa Thompson, Chartered Environmental Health Officer and Director of Safer Food Scores
New year, new functions in Menu Guide ~ To help you have a successful 2020, we've developed four new functions that make Menu Guide even easier to use.
Easy to ask? ~ According to the Food Standards Agency (FSA) 'It's #easytoASK about allergens'. But how easy is it? And who should be asking?
Top tips for marketing your food business ~ Hospitality is a very challenging industry where competition is fierce and margins are tight, so get ahead with some clever marketing.
Food allergens and the law ~ If you run a food business in the UK, you must comply with the relevant legislation. Here's a quick guide to help you meet current legal requirements.
Should calories be on the menu? ~ As new research suggests that mandatory labelling has the potential to improve the nutritional profile of food, opinions are divided.
Is Menu Guide a mobile app? ~ The simple answer is 'no, because it doesn't need to be and it's better that way' – find out why.
Looking for new customers? Vegans may not be the (only) answer…  ~ Recent research shows a large gap in the market for savvy restaurant and cafe owners.
---
Industry news
Allergy emergencies double in recent years in England (28 July 2023) BBC News ~ Dangerous allergic reactions and related NHS hospital admissions are rising in England, prompting health officials to issue advice on how to recognise allergies and respond. For severe food-related allergic reactions, the rise in admissions is even greater.
An evaluation of Natasha's Law and FSA's next steps on food hypersensitivity (19 July 2023) Food Standards Agency ~ In October 2021, following the tragic death of Natasha Ednan-Laperouse, we introduced a new allergen labelling law, also known as Natasha's Law. In this blog, Deputy Director of Food Policy, Natasha Smith, considers the impact of the law and next steps in relation to food hypersensitivity.
'It's one of the great mysteries of our time': why extreme food allergies are on the rise – and what we can do about them (15 July 2023) The Guardian ~ More and more youngsters are experiencing serious reactions to everyday foods. Bee Wilson asks what can be done.
FSA seeks views on new 'May Contain' guidance (27 March 2023) Food Standards Agency ~ The Food Standards Agency is seeking views on new advice for how and when to apply precautionary allergen labelling (PAL), commonly seen as "may contain" warnings on food packaging. Share your views via the online consultation by 22 May 2023.
Two allergy-related petitions selected for parliamentary debate on 15 May (23 March 2023) ~ On 21 March 2023 the Petitions Committee considered a range of e-petitions, including those that had received over 10,000 signatures. As a result, the petition for 'Owen's Law' – Change the law around allergy labelling in UK restaurants, which would require clear, specific allergen labelling on every restaurant menu, and the petition to Appoint an Allergy Tsar as a champion for people living with allergies will both be debated on 15 May 2023.
FSA consumer survey reveals changes to our eating habits (1 March 2023) Food Standards Agency ~ The latest wave of the Food Standards Agency's (FSA) Food and You 2 survey, conducted between April and July 2022, shows that most people surveyed in England, Wales and Northern Ireland had made changes to their eating habits in the last year, with financial reasons being the biggest driver.
Restaurant fined after peanut allergy teen suffered shock (27 October 2022) BBC News ~ Khan's restaurant in Heaton Road, Newcastle has been fined after selling a takeaway curry that contained peanut and almond protein to a customer with a stated peanut allergy who suffered anaphylactic shock.
Pret a Manger customer had fatal reaction to 'vegan' wrap (22 September 2022) BBC News ~ "A product which is marked dairy-free should be free from dairy". Maria Voisin, senior coroner for Avon following an inquest into the death of Celia Marsh who suffered a fatal allergic reaction to a wrap labelled as vegan despite containing traces of milk.
Food allergies: People are wrongly self-diagnosing, and their diets are suffering (29 August 2022) inews ~ Tom Chivers argues that, while there does seem to be a rise in food allergies, too many people are avoiding foods and doing themselves harm.
FSA flagship survey reveals how we all eat today (11 August 2022) Food Standards Agency ~ In a survey conducted by the Food Standards Agency, 12% of respondents reported that they had a food intolerance, 4% reported having a food allergy, and 1% reported having coeliac disease.
The habits that help prevent allergies (27 July 2022) BBC ~ Isabelle Gerretsen examines the scientific advances that may help fellow food allergy sufferers.
Pioneering clinical trial hopes that 'everyday foods' may be used in the future to treat people living with food allergies (18 May 2022) NARF ~ A three-year oral immunotherapy (OIT) trial will examine whether commonly available food products, such as milk and peanuts, can be used under medical supervision to treat those with food allergies.
Parents of Leeds student who died after eating takeaway pizza from Deliveroo demand the 'full truth' (13 May 2022) Leeds Live ~ James Atkinson, 23, had a known peanut allergy and may have suffered anaphylaxis having eaten only one slice of a pizza.
Speak Up for Allergies campaign (9 March 2022) Food Standards Agency ~ The next phase of this campaign will encourage young people to support friends with allergies when eating out and help food businesses to provide allergen information effectively.
Byron burger death: No damages payout for Owen Carey's family (6 May 2021) BBC News ~ "The family of a teenager who died after unwittingly eating food he was allergic to at a Byron Burger restaurant say they do not feel properly compensated." The family are now officially launching their campaign for 'Owen's Law', which would require clear, specific allergen labelling on every restaurant menu.
Restaurant and owner ordered to pay £80,000 in fines and costs (31 March 2021) Cornwall Council ~ Kowser Ahmed Ali and Dada Spice Ltd, trading as Blue Moon, Fore Street, Saltash, admitted multiple offences regarding food safety and health and safety. There were 'no procedures in place to ensure that accurate information regarding allergens was provided to customers'.
New research finds allergen management by food businesses has significantly improved since new regulations came into force in 2014, but 'there is still much to do'. (23 March 2021)
Food Standards Agency launches #SpeakUpForAllergies campaign encouraging teenagers and young adults to tell cafes and restaurants about their food allergies every time they order a meal (25 February 2021)
Hospital admissions for food induced anaphylaxis have increased from 1998 to 2018, but the case fatality rate has decreased (17 February 2021) British Medical Journal ~ In school aged children, cow's milk is now the most common single cause of fatal anaphylaxis.
Fine for Cleator Moor takeaway owner as nuts found in 'nut-free' meals (14 December 2020) News & Star ~ Abdul Hai, who runs the Spice House on High Street, Cleator Moor was fined £600 and ordered to pay £500 as a contribution to costs and a £60 victim surcharge.
Why food allergies are on the rise (26 October 2020) BBC Future ~ Food allergies can be extremely risky, even fatal – and they're on the rise around the world. Why are they increasingly common, and what can we do to prevent them?
Food Standards Agency launches 'Here to Help' campaign to provide support and guidance to established and new food businesses responding to the challenges of the Covid-19 pandemic (10 August 2020)
Allergy sufferer speaks out after takeaway with nuts landed him in hospital (23 June 2020) Express & Star ~ Mohammed Badrul Islam, owner of Rosehill Balti and Takeaway in Hednesford received fines, costs, a community service order and a 20-week suspended prison sentence.
Food Standards Agency publishes updated allergen guidance to reflect changes to labelling laws (18 June 2020)
New research from Food Standards Scotland highlights the challenges facing young people with food allergies (28 February 2020)
Most hospitality employees uncertain about relaying allergen information (10 February 2020) The Caterer ~ "Less than half of hospitality employees are confident they are relaying the correct allergen information, according to new research."
Takeaway fined £20,000 for selling a 'nut free' meal that contained nuts (28 January 2020) Coventry Live ~ "Trading Standards say the amount found could have led to someone dying."
Shante Turay-Thomas: Human error factor in allergy death (13 January 2020) BBC News ~ "A teenager with a severe nut allergy died in part because of human error, a coroner has ruled."
Croxley Green pub fined £23,000 after diner's Christmas meal triggered severe food allergy and intensive care (10 December 2019) Hertfordshire County Council ~ "The Artichoke pub and restaurant has been prosecuted by Hertfordshire Trading Standards."
Burger allergy death father hits out at Byron chain (14 November 2019) BBC News ~ "The father of a teenager with a dairy allergy who died after he unwittingly ate buttermilk at Byron burger has called on the company to do more." Under 'Owen's Law', which the family have called for, businesses would be required to provide information both in writing and orally, and the written information would label 14 allergens listed by the Food Standards Agency.
Severe allergic reactions rise in children in England over past five years (11 November 2019) BBC News ~ "New NHS figures show that 1,746 children were treated for anaphylactic shock in 2018-19, up from 1,015 in 2013-14." If you want to future-proof your business, you need to make sure that customers with food allergies and intolerances can eat safely.
Byron death: Restaurant unable to contact waiters who may have served allergic teenager (11 November 2019) ITV News ~ Simon Wilkinson, the CEO of Byron, gives his first television interview about the death of Owen Carey.
Allergies: Teenagers needing hospital treatment up 65% in five years (1 November 2019) BBC News ~ "In 2013-14, 2,873 teenagers sought treatment whereas in 2017-18 it was 4,743, data from NHS Digital shows."
Dobson & Parnell restaurant fined after woman hospitalised with allergic reaction to fish curry (4 October 2019) Newcastle Chronicle ~ "The Quayside restaurant admitted breaching food safety regulations by serving a dish containing peanuts to a woman with a serious nut allergy – an incident which could have proved fatal"
More than 1,400 UK restaurants close as casual dining crunch bites (16 September 2019) BBC News ~ "Insolvencies in year to the end of June 2019 increased by 25% – the highest since at least 2014."
Byron burger allergy death: Owen Carey's family demand law change (13 September 2019) BBC News ~ "The family of a teenager with a dairy allergy who died after he unwittingly ate buttermilk in a burger restaurant have called for a change in the law."
Food allergen labelling changes become law (5 September 2019) Food Standards Agency ~ A new law that extends labelling requirements for people with food allergies and intolerances will come in effect from October 2021 in England. More information is available from the Food Standards Agency website.
Gove to introduce 'Natasha's Law' (25 June 2019) UK Government ~ A new law will require food businesses to include full ingredients labelling on pre-packaged foods by summer 2021.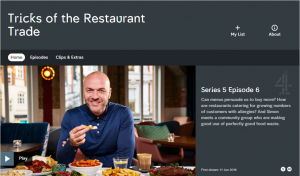 Tricks of the Restaurant Trade (17 June 2019) Channel 4 ~ "Can menus persuade us to buy more? How are restaurants catering for growing numbers of customers with allergies?"
Arundel House Hotel fined for selling unsafe food (09 May 2019) Cambridgeshire County Council ~ "A Cambridge hotel has been ordered to pay £4,400 for supplying food containing nuts to a customer known to be allergic to the ingredient, who subsequently went into anaphylactic shock."
(8 May 2019) Food Standards Agency (FSA) ~ The FSA advises more extensive food labelling and sets out new priorities to protect food hypersensitive consumers. Download the full 30-page report [pdf]
Man with nut allergy asked by a restaurant to sign a food disclaimer form (30 April 2019) Independent ~ "The restaurant defended its policy and said it is not prepared to 'abandon the use of nuts."
Feeding a child with allergies (24 April 2019) Woman's Hour Parenting Podcast ~ Paediatric dietitian Clare Thorton-Wood gives advice on how to feed a child with food allergies and shares tips and tricks for parents.
Food allergies: Key information that every child should know (27 March 2019) BBC Newsround ~ "Newsround has spoken to Amena Warner from the charity Allergy UK to get answers to the big questions about food allergies."
Wake-up call: Prepare for changes to allergen labelling (23 March 2019) The Caterer ~ "With the spotlight recently being thrown on operators' processes regarding allergens, Duncan Reed explains the possible changes to the law on selling prepackaged food and what anyone preparing fresh food needs to know."
Restaurant owner fined after 'potentially fatal levels of peanut' found in nut-free meal (12 March 2019) The Caterer ~ "A West Midlands restaurant owner has been ordered to pay more than £3,000 in fines and court costs after failing to meet requests for peanut-free meals."
Beyond Today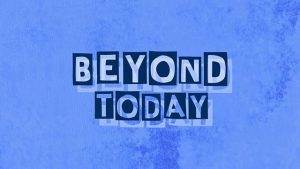 (28 January 2019) BBC Radio 4 ~ Are we getting more allergic to food and what scientific research is being done to find out why some people have more extreme reactions than others? The BBC's health and science correspondent James Gallagher takes us through the biology in this 19 minute radio programme.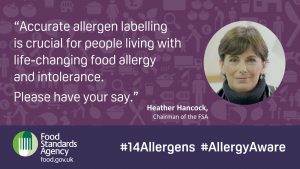 We're seeking your views on allergen labelling (25 January 2019) Food Standards Agency ~ a national, nine-week consultation on the UK Government's plans to improve allergen labelling laws for pre-packed foods. DEFRA's website has further information, including the full consultation paper and an online survey.
Just Eat under fire over allergens found in takeaway meals (14 January 2019) The Guardian ~ "A number of restaurants listed on Just Eat, the biggest online food delivery app in the UK, have been found to sell food that could cause allergic reactions, an investigation has found."
People with allergies say food chains are 'running scared' after manager advises family to eat somewhere else (12 January 2019) inews ~ "blanket allergen warnings are now common in restaurants, with at-risk customers being turned away or even asked to sign legal disclaimers."
Restaurant fined after serving gluten-free customer garlic bread (6 December 2018) The Caterer ~ "An Italian restaurant in Greater Manchester has been fined after a customer was sold garlic bread that contained gluten despite being advertised as gluten free."
Why the world is becoming more allergic to food – Dr Alexandra Santos, King's College London (3 December 2018) BBC News ~ "The rise in allergies in recent decades has been particularly noticeable in the West. Food allergy now affects about 7% of children in the UK and 9% of those in Australia, for example. Across Europe, 2% of adults have food allergies."
Allergens found in quarter of sampled foods (28 November 2018) BBC News ~ "Undeclared allergens were found in a quarter of food samples from UK businesses, figures have shown. The Food Standards Agency (FSA) revealed 673 out of 2,862 tests since 2016 were 'unsatisfactory'."
Restaurant and cafe chains giving out 'dangerous' allergy advice (28 November 2018) BBC Watchdog Live ~ "Posing as customers with food allergies, journalists secretly filmed staff at Frankie & Benny's, Pizza Hut, Nandos, Pizza Express, Starbucks and Costa. The journalists asked staff whether dishes contained any of the 14 major allergens. Five out of the 30 outlets visited gave the reporters incorrect information."
Pressure mounting on operators after allergen deaths (15 October 2018) The Caterer ~ "Three allergen-related deaths have appeared in the news in the past fortnight, bringing the topic of labelling to the forefront of operators' minds. But while it may be the best option for consumers, it could cause huge problems for small businesses."