Coverage of Menu Guide
What can restaurants do to help customers with allergies? (16 September 2019) BBC News ~ "For other restaurants, interactive allergen menu services like Menu Guide can help them cater to the estimated two million people in the UK with a diagnosed food allergy."
Creating the right customer reaction to allergen information (28 June 2019) Sustainable Restaurant Association ~ "Whatever your views on the 'experience economy', it's clear that attracting and retaining loyal diners is essential to staying competitive in the hospitality industry."
---
Our blog
Is Menu Guide a mobile app?  (14 October 2019) ~ The simple answer is 'no, because it doesn't need to be and it's better that way'. Find out why
Looking for new customers? Vegans may not be the (only) answer…  (8 September 2019) ~ Recent research shows a large gap in the market for savvy restaurant and cafe owners.
---
Industry news
Dobson & Parnell restaurant fined after woman hospitalised with allergic reaction to fish curry (4 October 2019) Newcastle Chronicle ~ "The Quayside restaurant admitted breaching food safety regulations by serving a dish containing peanuts to a woman with a serious nut allergy – an incident which could have proved fatal"
More than 1,400 UK restaurants close as casual dining crunch bites (16 September 2019) BBC News ~ "Insolvencies in year to the end of June 2019 increased by 25% – the highest since at least 2014."
Byron burger allergy death: Owen Carey's family demand law change (13 September 2019) BBC News ~ "The family of a teenager with a dairy allergy who died after he unwittingly ate buttermilk in a burger restaurant have called for a change in the law."
Food allergen labelling changes become law (5 September 2019) Food Standards Agency ~ A new law that extends labelling requirements for people with food allergies and intolerances will come in effect from October 2021 in England. More information is available from the Food Standards Agency website.
Gove to introduce 'Natasha's Law' (25 June 2019) UK Government ~ A new law will require food businesses to include full ingredients labelling on pre-packaged foods by summer 2021.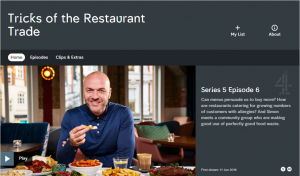 Tricks of the Restaurant Trade (17 June 2019) Channel 4 ~ "Can menus persuade us to buy more? How are restaurants catering for growing numbers of customers with allergies?"
Arundel House Hotel fined for selling unsafe food (09 May 2019) Cambridgeshire County Council ~ "A Cambridge hotel has been ordered to pay £4,400 for supplying food containing nuts to a customer known to be allergic to the ingredient, who subsequently went into anaphylactic shock."
(8 May 2019) Food Standards Agency (FSA) ~ The FSA advises more extensive food labelling and sets out new priorities to protect food hypersensitive consumers. Download the full 30-page report [pdf]
Man with nut allergy asked by a restaurant to sign a food disclaimer form (30 April 2019) Independent ~ "The restaurant defended its policy and said it is not prepared to 'abandon the use of nuts."
Feeding a child with allergies (24 April 2019) Woman's Hour Parenting Podcast ~ Paediatric dietitian Clare Thorton-Wood gives advice on how to feed a child with food allergies and shares tips and tricks for parents.
Food allergies: Key information that every child should know (27 March 2019) BBC Newsround ~ "Newsround has spoken to Amena Warner from the charity Allergy UK to get answers to the big questions about food allergies."
Wake-up call: Prepare for changes to allergen labelling (23 March 2019) The Caterer ~ "With the spotlight recently being thrown on operators' processes regarding allergens, Duncan Reed explains the possible changes to the law on selling prepackaged food and what anyone preparing fresh food needs to know."
Restaurant owner fined after 'potentially fatal levels of peanut' found in nut-free meal (12 March 2019) The Caterer ~ "A West Midlands restaurant owner has been ordered to pay more than £3,000 in fines and court costs after failing to meet requests for peanut-free meals."
Beyond Today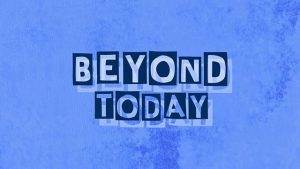 (28 January 2019) BBC Radio 4 ~ Are we getting more allergic to food and what scientific research is being done to find out why some people have more extreme reactions than others? The BBC's health and science correspondent James Gallagher takes us through the biology in this 19 minute radio programme.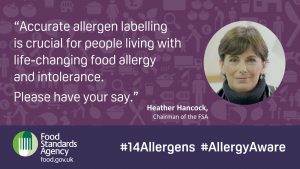 We're seeking your views on allergen labelling (25 January 2019) Food Standards Agency ~ a national, nine-week consultation on the UK Government's plans to improve allergen labelling laws for pre-packed foods. DEFRA's website has further information, including the full consultation paper and an online survey.
Just Eat under fire over allergens found in takeaway meals (14 January 2019) The Guardian ~ "A number of restaurants listed on Just Eat, the biggest online food delivery app in the UK, have been found to sell food that could cause allergic reactions, an investigation has found."
People with allergies say food chains are 'running scared' after manager advises family to eat somewhere else (12 January 2019) inews ~ "blanket allergen warnings are now common in restaurants, with at-risk customers being turned away or even asked to sign legal disclaimers."
Restaurant fined after serving gluten-free customer garlic bread (6 December 2018) The Caterer ~ "An Italian restaurant in Greater Manchester has been fined after a customer was sold garlic bread that contained gluten despite being advertised as gluten free."
Why the world is becoming more allergic to food – Dr Alexandra Santos, King's College London (3 December 2018) BBC News ~ "The rise in allergies in recent decades has been particularly noticeable in the West. Food allergy now affects about 7% of children in the UK and 9% of those in Australia, for example. Across Europe, 2% of adults have food allergies."
Allergens found in quarter of sampled foods (28 November 2018) BBC News ~ "Undeclared allergens were found in a quarter of food samples from UK businesses, figures have shown. The Food Standards Agency (FSA) revealed 673 out of 2,862 tests since 2016 were 'unsatisfactory'."
Restaurant and cafe chains giving out 'dangerous' allergy advice (28 November 2018) BBC Watchdog Live ~ "Posing as customers with food allergies, journalists secretly filmed staff at Frankie & Benny's, Pizza Hut, Nandos, Pizza Express, Starbucks and Costa. The journalists asked staff whether dishes contained any of the 14 major allergens. Five out of the 30 outlets visited gave the reporters incorrect information."
Pressure mounting on operators after allergen deaths (15 October 2018) The Caterer ~ "Three allergen-related deaths have appeared in the news in the past fortnight, bringing the topic of labelling to the forefront of operators' minds. But while it may be the best option for consumers, it could cause huge problems for small businesses."