Welcome to Menu Guide
The easy way to create and share
food allergen menus online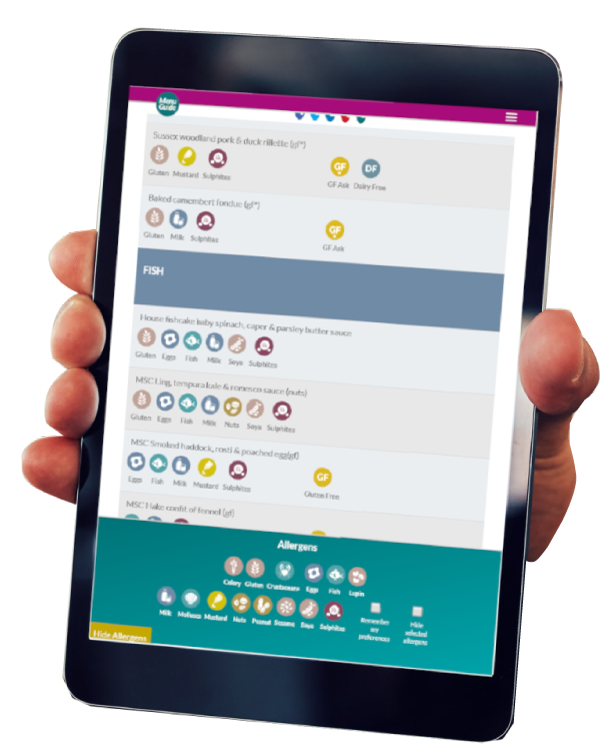 Menu Guide in the wild
Menu Guide is trusted by cafés, pubs, restaurants, hotels and catering companies to support their work, providing a one-stop, paper-free allergen and nutrition solution for their customers.
Share your allergen menus online in four simple steps
Upload your menu
Upload your menu directly from your website, menu pdf, your own allergen sheet, or use our specially-built allergen menu spreadsheet.

Check your allergens
Check and approve your allergen menu is correct and ready to publish. Add dietary info, photos, optional ingredient and nutrition info too.

Publish your menu
Once you've published your menu, download a QR code and/or table talker to let your diners know you care about their wellbeing.

Your menu is live
Diners can view your menu by scanning the QR code or entering a short-link in their mobile browser. No app downloads needed!
Research shows that food allergies, intolerances and preferences are all increasing. Customers with dietary needs who have a positive experience are more likely to become loyal to your business.
Find out more…
The Benefits of using Menu Guide
An estimated 2 million people in the UK have a diagnosed food allergy and up to 20% of the population believe that they have a food intolerance.
When eating out or ordering takeaway they need clear, accurate information to make safe choices. That's where Menu Guide comes in.
Save time, minimise paperwork and streamline kitchen operations
Support staff training and provide a single reference point for customers
Let customers view allergen info before, during and after their visit
Provide a positive customer experience to build loyalty and repeat business
Find out more about the benefits of using Menu Guide
Create your allergen menus for free
We're here to make your life easier so you're welcome to try Menu Guide for 30 days with no payment needed.
If you're ready to start creating your allergen menus, see our plans and pricing.
Your customers can view your allergen information quickly and easily anytime and use the interactive functionality to sort it according to their requirements
A word about us
The Menu Guide team has worked with cafes and restaurants since 2009. We understand the pressures that food businesses operate under and created this innovative tool to support you and help consumers make safe food choices. In the highly competitive hospitality and catering industry where margins are tight, staffing may be challenging and customers demand high standards, Menu Guide is an essential asset to help grow your business.